PTZ is an abbreviation for pan, tilt and zoom and reflects the movement options of the camera. Other types of cameras are ePTZ or virtual pan-tilt-zoom (VPTZ) where a high-resolution camera digitally zooms and pans into portions of the image, with no physical camera movement.
Surveillance cameras of this type are often connected to a digital video recorder which records the full field of view in full quality.
PTZ cameras, or pan tilt zoom cameras look like dome cameras, and are also encased in a hard-shell dome which both protects it and obscures the camera's direction from curious onlookers. PTZ cameras differ though in that they have more capabilities and are capable of remote direction and zoom control. Typically used in surveillance, the PTZ is also a tool used in video conferencing, live production, lecture capture, distance learning, as well as many other applications. In some cases, you might want to consider this camera to serve your business in more than one way in areas that serve more than one purpose.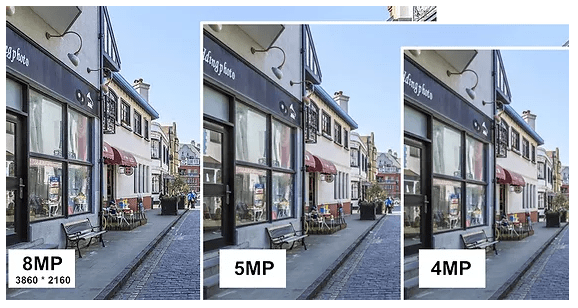 Q. What is meant by PTZ camera?
PTZ stands for Pan Tilt and Zoom. It is a camera used for surveillance which has remote directional and zoom controls.
Panning and Tilting is the part of camera physically moving, while the zoom function is the movement of the lens changing its focal length and focus.

Q. What is the difference between IP PTZ & AHD PTZ cameras?

In AHD PTZ camera – there are 2 separate cables – one for video signal and for the controller (pan, tilt and zoom).
IP PTZ camera as the name suggests works on network cable, has only a single cable for video and controlling the camera (pan, tilt and zoom).

Q. What is the construction material of the PTZ camera? Is it vandal proof?

The PTZ cameras have an IP 66 rating and offer resistance to some extent against vandalism– the outer casing is made of metal, high-grade abrasion resistant plastic and the lens is further reinforced by the glass dome.

Q. What is the recommended power supply for the IP PTZ camera?

The available PTZ camera variants require 12V DC, 5 Amp power supply.

Q. What cable connection type is required for power and for video feed?

Power connector– DC pin – 12V DC, 5 Amp
Network video connector -RJ 45. Network cable- CAT6

Q. What is the ideal distance for providing power to PTZ camera? Can be power connection be provided from a distance?

It is highly recommended that the power connection to the PTZ camera be given from an immediate source (local power supply). Cable over a long distance will decrease the power supplied to the camera, and may not function properly.