Analogue High Definition Cameras
AHD CCTV stands for "analog high definition". It is a new HD surveillance video standard for CCTV cameras and DVRs. AHD currently supports High Definition 720p,1080p & 4MP, 5MP & 8MP AHD cameras right now.
Surveillance cameras come in a variety of shapes and sizes, each with their own advantages and disadvantages. When trying to determine which camera is best for your situation, the following aspects should be considered: Distance from the camera to the desired field of view, or the actual location the camera is viewing/recording. Width of the field of view you're looking for Lighting changes that occur, or low/high lighting requirements
Whether you need color or black and white (B&W works well in low lighting)
Buyers need to consider all of these factors when determining which camera is right for them, because there is simply not a camera that works with every individual circumstance.
It is important to evaluate each individual location when deciding to purchase a camera system.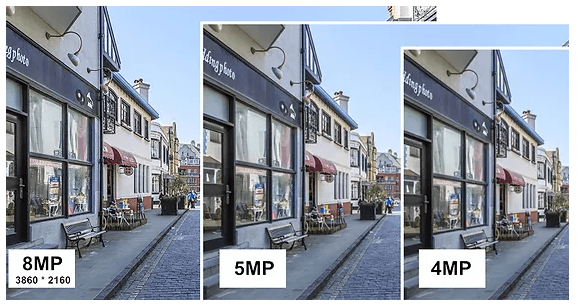 Q. What are AHD camera / AHD technology?
AHD CCTV is an analog high definition closed-circuit television video surveillance standard that utilizes coax cable to transmit HD video from security cameras to DVRs. AHD supports from 720p to 8MP HD resolution.

Q. What is the difference between the technologies? SDI, TVI, CVI, Analog, AHD and IP?

Analog: Goes up to 1000 TVL
AHD: Analog High Definition – up to 8MP resolution.
CVI/TVI: Different Manufactures.
SDI: Full High Definition – 1080p
IP: Network/Digital cameras.

Q. What is the Advantage of AHD camera?
AHD (Analog High Definition) CCTV cameras are capable of capturing high definition video surveillance at up to 8MP resolution.
These cameras are used with AHD DVRs (Digital Video Recorders) & have the convenience of plug and play installation.
Cameras and DVR are connected through BNC(Bayonet Neill–Concelman) cable which provides power to cameras & transfers feed to the DVR for recording, video & alarm management.

Q: What cables are used in the installation of the AHD cameras?
The installation of AHD cameras is done using coaxial cable.
Q. What is CMOS?

CMOS is an abbreviation for Complementary Metal-Oxide Semiconductor. An Image sensor that converts light into electron.
Q. What type of lens is used in AHD camera? What different categories?

There are mainly two lens categories of AHD Camera – Fixed & Varifocal lens.
Generally, a wide range of fixed lens like 2.6mm, 3.6mm, 6mm, 8mm, and 12mm is used as per requirement.

Q. What is a Varifocal lens?

A varifocal lens is a CCTV camera lens with variable focal length in which focus changes as focal length changes. A 2.8-12mm lens is used in varifocal AHD cameras.

Q. What is ICR or IR cut filter? What is the function?

An ICR (IR-Cut Filter Removable) is a mechanical shutter design placed between the lens and the image sensor and is controlled by a motor or an electromagnet. When the ICR is switched on, it blocks infrared light and allows only visible light to pass through. When the ICR is switched off, infrared light is allowed to pass and the images turn to black & white mode (more sensitive to infrared light).

Q. What is IR LED or what is the Day/night feature of the AHD camera?

An IR LED (Infrared Light Emitting Diode) is a solid-state lighting (SSL) device which emits light in the infrared range of the electromagnetic radiation spectrum.
IR LEDs allow for cheap, efficient production of infrared light, which is electromagnetic radiation in the 700 nm to 1mm range. IR LEDs are used in a number of types of electronics, including many types of remote controls for televisions and other electronics. Used with infrared cameras, IR LEDs can act like a spotlight while remaining invisible to the naked eye.

Q. What DVR is required by the AHD cameras?

AHD camera requires an AHD DVR of the compatible resolution. For example, a 3MP AHD camera will be supported by a 3MP DVR.

Q. What is the Advantage of AHD camera?

The advantages of an AHD camera are:
1. Wide range of resolution/s
2. Supports long transmission signal
3. Low cost

Q. Which cable type is used for connecting the AHD camera to the DVR?

Coaxial cable is used for connecting the camera with the DVR.
Most integrators use CCTV cable (3+1) which carries Video + Audio + DC power and has the limitation over long distance transmission due to the power and video signal drop.